Q&A | Illesso Design, Typographer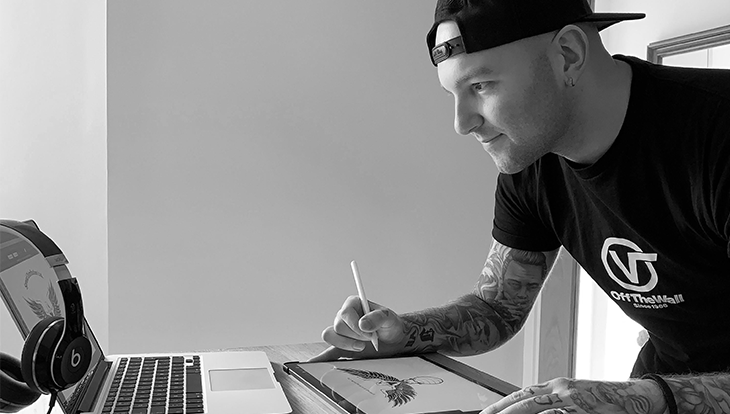 Typographer and Illustrator 'Illesso Design' a.k.a. Mathew Wain, designed Ghost Club Co's logo and 'Pray For Me' shirt. We caught up with him to find out a little more about his 'less is more' style and ethos, the equipment he uses to create and what makes a truly great brand...
Ghost Club Co (GCC): Where did your design journey begin and how did you start Illesso Design?
Illesso Design (ID): Ever since I was little I had a thing for arts and crafts. I used to build all sorts of things out of anything going to waste. I'd spend hours on end in the school holidays just practice drawing my action figures, football badges and my Hot Wheels. When I got a little older and hit secondary school, I developed this real obsession with graffiti, spray cans and skateboarding. Although I was never very good at skating so I stuck with the art! Through my GCSEs my art teacher was the best. She was the one that said "You're a graphic designer" but I didn't know what that was at the time. She said I had an eye for detail and that I was obsessed with perfection and layout. I can see now just how right she was and I'm glad she was there to start me off.
Then once I got to college I was exploring new medias, techniques and learning so much from my tutors. That's when I really fell in love with branding. Reading books and studying the works of Saul Bass, David Carson, Paul Rand. From then on I couldn't get enough of typography and illustration. So that's what I went on to do at University. 
I worked hard at Uni, but I could of tried a lot harder. From day one I think I was seen as 'The Type Guy' which was pretty cool. Three years of that degree had flown over and I was soon propelled into the big bad world. Here in the North-East there are very few design agencies or studios so the jobs were extremely limited. Unfortunately I wasn't even considered for an interview most of the time. That's quite hard to take and so I went to work in a local petrol station to get a steady wage. Once I got started I knew it was a means to an end. I just wanted to make enough money to buy some equipment and keep up my practice. In the end all I wanted to do was design. So I quit my job and just went all in. That's when Illesso Design was born - and i'm very, very proud of it.
GCC: How would you describe yourself, your style and work? 
ID: Pretty difficult question as I don't really ever think about myself like that. The only time i've had to do it is when I'm trying to sell myself to an employer, which I always hated haha. But, I would describe myself as a fun, outgoing, jolly bloke that's old before his time. I'm quite old fashioned but I have simple taste and I'm easily pleased. I like to be clean cut and feel fresh and I definitely think that resonates within my style of work too. I lead a relatively balanced lifestyle and I enjoy the little things in life. I think you can see my personality within my work. I like day-to-day structure and routine. I like to have an organised studio and a clean car. I just enjoy when things are easy and work as they should do. In everyday life and especially in my work - I'm not one for overcrowded clutter or mess. 
Everyone says that I have an instantly recognisable style and while I agree I'm not sure I can pin down the fundamentals to it. My design ethos (if you like) has always been 'Less is more' and I believe that to be true outside of my work too. I just like to work a certain way and push myself when it's necessary. I'm so pleased that my work is appreciated and well received within the design world.
GCC: What equipment and software do you use when you design? 
ID: When I first started I liked to stick with the traditional method of working. Pencil, pens, paper and ruler. Theres something so satisfying about that and it's the way I was taught too. The first 4 years of Illesso Design was all about the analogue but within the last year I have moved over to using an iPad Pro 12.9" with Apple Pencil. I was sceptical at first and had my concerns that it may be a step too far and take away from the joys of making mistakes. But to be honest, I love it. Each piece that I do, wether it's some lettering, an icon or illustration I save lots of the progress shots and document the mistakes I make. Sometimes the client loves to see evidence of free thinking and the creative direction. It may not always be pretty and flawless but it's the best way to learn and try new things. 
Once I am happy with the sketches I export them to Adobe Illustrator to begin the vector process. It takes time and lots of patience but over the years I have found new and effective ways of getting the best results. I probably learn something new everyday when I'm using Illustrator. Probably the best software there is!
GCC: Describe your creative process for us. What steps do you take when you're working through a project?
ID: I try and make the creative process as simple as possible. I don't want to make life hard for the client. I want to make it and easy and enjoyable transaction.
So, I ask the client to complete a design brief so we have their thoughts and ideas written down. From this I pick out the key parts and aim to narrow down a clear direction. I also like to chat about the possibilities and/or give advice. If this isn't done properly then we could face wasted time and money - which neither of us want. Lots of clients want to show you a picture and want you to do it within a day. I try my best to stay clear of that situation. I hate rushing anything but more importantly I like to earn my money and give 110%. 
Once we have agreed on the finer details, I get started on the 'Scribble Stage'. Usually I like to spend 2/3 hours jotting down my initial ideas based on what we have discussed. Some ideas are winners and some aren't. I like to study each concept and see if it ticks the boxes of the brief. After that I move into the 'Refining stage' where ideas start to come alive. At this point I sometimes go back to the client to get thoughts and feedback. If it's positive we keep on going, if not then we re-evaluate and discuss the best way to progress. 
If all goes to plan, we enter the 'Vector Factory' (as I like to call it) and go for gold. The the final step is presenting to the client. I take each design option I create and make some slight variation concepts too so they can make an informed decision towards the final. 
GCC: What makes a great brand identity? 
ID: In my eyes, great brand identity is made up of a few things. But the main one, like the saying 'Beauty is in the eye of the beholder'. For me, a brand should have a purpose, a reason, a goal. The brand identity should encapsulate the story of the brand. 
The same way I was asked in Question 2 "How would you describe yourself, your style and your work" is the way a brand should present itself. Brand is the best. You can say so much about a business, a product, a service through a good visual identity. 
This is another reason I like to familiarise myself with the client. Who are they? What are they about? What is their aim/goal? People think it's all about making something 'cool' or 'as long as it looks good' - while that is correct I believe that's only a small snippet, it's maybe only 10% of it. 
Check out Illesso Design online: 
---